This shop has been compensated by Collective Bias, Inc. and its advertiser. All opinions are mine alone. #HolidayFlavorsAreHere #CollectiveBias
Treat your holiday guests to a hot cup of coffee and a s'mores cookie cup to make their day extra special. Graham flavored cookies cradle marshmallow and chocolate making the iconic flavors quick and easy to grab and eat while visiting with family and friends.
It's the most wonderful time of the year! I just love everything about the holiday season. There is just something so cozy and fun about this time of the year. First, come the fun decorations and all of the excitement. Then, there's the constant excuse to get together with friends and family, and with that comes plenty of excuses to bake! Yippee!
Though I have always loved the holidays, they are even more special now that Little Dude is at the perfectly magical age. He has been looking forward to Christmas since, well, last Christmas! His list has been in progress since September and has been hanging by the fireplace since October just in case.
He and my husband have already been discussing the lights outside. They have big plans to expand the display this year, but I have been sworn to secrecy. I am no different. We're hosting Thanksgiving this year, so I have been dreaming up menus for that. But what I am looking forward to the most is the Christmas baking and hosting.
Want some truffles and coffee for yourself? Just hover over this picture to shop directly from it!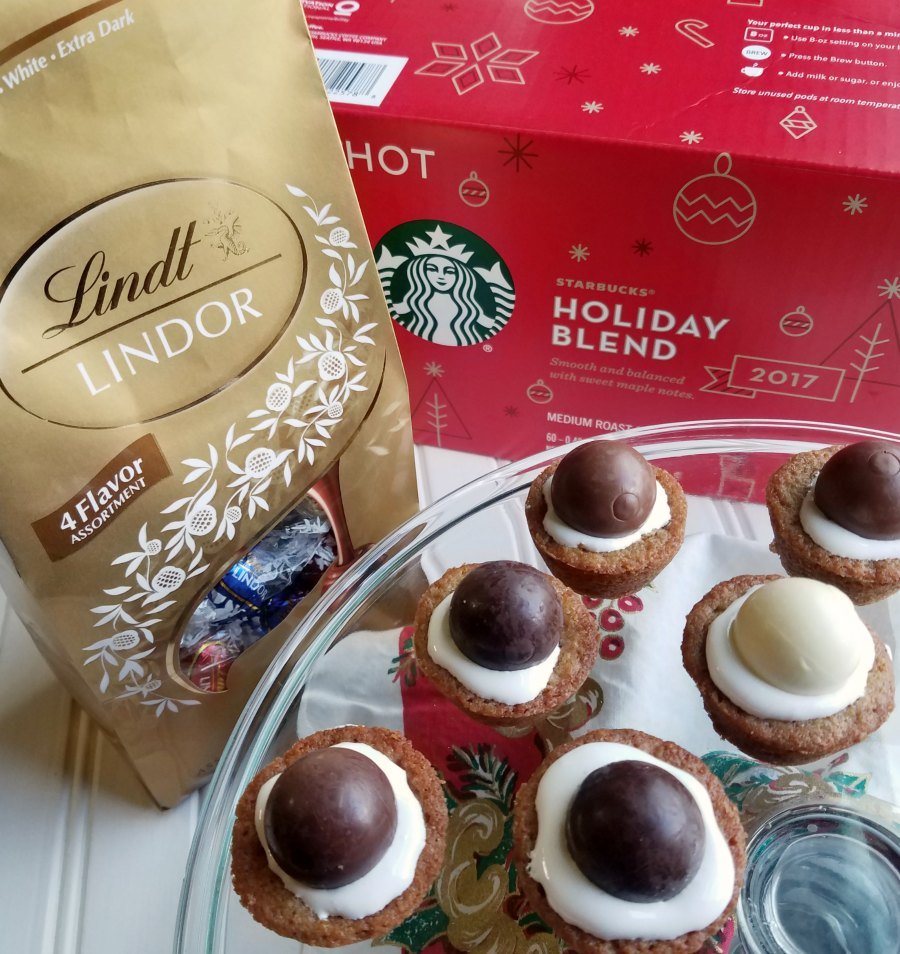 Some people get excited when they walk into the stores and they are filled with festive decorations. I get excited when I walk into the store and see the holiday flavors. So when I saw the
Starbucks® Holiday Blend 60ct K-Cup® pods
at my local Sam's Club, I knew I had to grab a box. There is nothing like a festive coffee to get you in the mood. Plus, it is the perfect accompaniment for all the cookies!
We started a tradition on Little Dude's first Christmas. We didn't want to tear him away from the house Christmas morning. We want him to be able to enjoy each part of the morning without having to rush off anywhere else. So, he gets to wake up whenever he's ready and open gifts at his own pace. With nothing on the calendar until Christmas dinner, he can play with all of his new stuff and we get to enjoy the excitement as well.
Though we are opposed to leaving the house, we don't want to keep anyone who would like to join the excitement. Until a couple of months ago he was the only grandchild on one side of the family and the only one in town on the other. Christmas morning is a whole lot more exciting with a little one around, so we open our doors to anyone who wants to come by and see what Santa brought.
We greet each person with a hot cup of coffee as they come in and once they are done being dazzled with the morning's haul they are welcome to help themselves to whatever food they'd like. I usually have some brunch foods available and of course, there are plenty of Christmas cookies.
There are a few cookies that we just have to have each year. A cookie tray wouldn't be complete without some sugar cookies, kolachy and crescent cookies. But I don't want anyone to get bored, so I have fun dreaming up one or two new kinds of cookies. It makes it fun for me to bake something different and it is fun for our guests as well to be guessing what might be available. The
Lindt Chocolate Assorted Lindor Truffle Bag - 19 oz
at Sam's Club drew me in this year. I just knew I had to dream up something using them. The rich sweet chocolate would play so nicely with that
Starbucks® Holiday Blend 60ct K-Cup® pods
.
I went back and forth a few times about what to make with them but settled on a s'mores inspired treat. The warm flavors of the graham cookie base would be a perfect compliment to the maple undertones of the
Starbucks® Holiday Blend
. A little marshmallow fluff would make the perfect glue and a Lindt Lindor Truffle would be the proverbial truffle on top! There is just something about biting into that crunchy shell and having it give way to that soft creamy center. Mmm, I'm hungry for one just thinking about it.
The assortment really works great for our family as my husband and mother-in-law are a sucker for dark chocolate and the deep-dark variety is perfect for them. But my brother-in-law who gets chocolate induced migraines isn't left out because he can enjoy the white chocolate version. There's something for everyone!
If you are looking for a great way to treat your family to something extra special this year, let me tell you that this is a perfect way! The cookies themselves come together in almost no time, plus they can be made ahead and frozen until the day before your celebration. Then all you have to do is assemble them for the party. The coffee is like a perfect warm hug. Imagine being greeted at the door with a fresh cup brewed just for you.
Of course a plate of cookies and some coffee would be a great gift for neighbors as well. So if any of my neighbors are reading this, hint hint! ;-) What's even better is right now you can
enjoy
50 bonus stars
with purchase of any one qualifying Starbucks® packaged coffee or K-Cup® pods at Sam's Club through 11/1/17-12/26/17
What is your favorite holiday cookie recipe?
Yield: 24 cookies
S'mores Cookie Cups
Treat your holiday guests to a hot cup of coffee and a s'mores cookie cup to make their day extra special. Graham flavored cookies cradle marshmallow and chocolate making the iconic flavors quick and easy to grab and eat while visiting with family and friends.
prep time: 10 MINS
cook time: 10 MINS
total time: 20 mins
INGREDIENTS:
1/2 cup butter, softened
1/4 cup sugar
1/2 cup brown sugar
1 egg
3/4 cup flour
1/2 cup graham cracker crumbs
1/4 tsp baking powder
1/2 tsp salt
2 tsp vanilla
1/4 cup marshmallow fluff
24 Lindt Lindor truffles
INSTRUCTIONS
Preheat oven to 350F and grease 24 mini muffin wells.
Beat butter until smooth and creamy. Add sugar and brown sugar and cream until light and fluffy.
Beat in the egg and vanilla extract until combined.
In a small bowl, stir together the flour, graham cracker crumbs, baking powder and salt.
Stir dry ingredients into butter mixture until incorporated.
Put about a 1" ball into each mini muffin well. Lightly press into well.
Bake for about 10 minutes. Remove from oven and create an indent in the top of each cookie. The back of a Tablespoon or a small cookie scoop works well. Remove cookies from tin about 5 minutes after removing them from the oven. Cool completely on a wire rack.
If making cookies ahead of time, go ahead and bag and freeze at this stage.
To serve place about a tsp of marshmallow fluff into each cookie. Top with a truffle and enjoy!
Copyright: Cooking With Carlee 2017